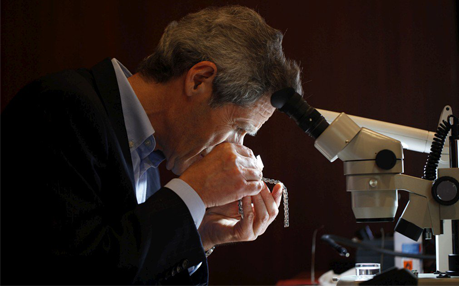 J.Baptista makes available its qualifications as Oficial Evaluators, licensed by the Imprensa Nacional – Casa da Moeda, gemologists specialized in diamonds, colored stones and pearls, with more than 60 years of experience in the study and commercialization of jewels and antique silver, providing Evaluations and emitting Warranty Certificates of its pieces.
The extreme care in the selection of the pieces, the curatorship of the objects available, and the excellence, transparency and care inherent to the advice given to customers, assure a degree of confidence that differenciates J.Baptista and ensures high credibility to the evaluation service provided.and trade of antique jewellery and silver, J. Baptista provides a service of appraisals and valuations.
Formal Evaluation
For insurance effects, division of inheritances or other matters, we emit a certificate listing the evaluated pieces and indicating their market value. This service is by appointment only.
Informal Evaluation
For a limited number of pieces to be evaluated, for effects of sales or consignment, we make informal evaluations, free of charge. This service is by appointment only.
Free Evaluations
J. Baptista regularly organizes several events of technical expertise and free evaluations of antique or second-hand jewels and silver.
Evaluation commission
Our formal evaluation services are subject to an evaluation commission of 2% of the value of the pieces, plus VAT on that percentage. In case of informal evaluations of a small number of pieces, or in the context of an event of free evaluations, the evaluation commission will not be charged.
Evaluations by Appointment
To schedule your evaluation please contact us though our e-mail info@josebaptista.com, by telephone +351 213 859 068, or write us your message, indicating the type of evaluation and the number of pieces: